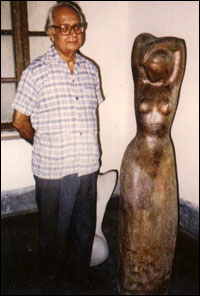 The Bhaskar Bhavan Administration & Maintenance Trust was instituted by the celebrated sculptor and painter Sri Chintamoni Kar in 2005 at his residential campus 3/1, Ram Chandra Dey Street, Rathtala, Narendrapur, Kolkata--700103 in the district of South 24 Paraganas.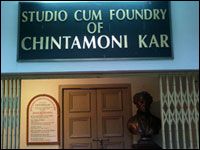 Here soon after his demise, a personalia museum named the Chintamoni Kar Sangrahalay, was thrown open for public view on April 19, 2006 coinciding with his 91st birth anniversary. It has three galleries displaying more than one hundred fifty sculptures and paintings of the artist.
The Gallery - I constitutes his erstwhile Sudio II and the Foundry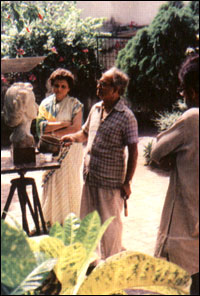 where a number of metal, stone and terracotta images have been presented in the made-manner and style in which the late sculptor worked.
The Gallery - II displays an elaborate photographic documentation of his life and work as well as the working tools the sculptor used during his lifetime along with a number of preparatory muckets.
The Gallery - III is the renovated Studio I of the artist presently displaying his early paintings and other smaller sculptures. Besides, a good number of paintings and drawings by his wife constitute the separate Amina Kar Art Gallery.
The Activities :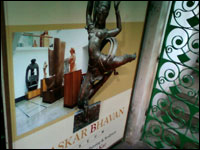 The Trust has undertaken physical verification and documentation of his art works and p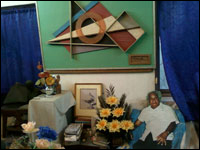 ersonal collection of books. Introduced stipends for the needy students of the art colleges to prosecute their studies of art and craft as also for the poor students of the schools in the local area to undertake curricular studies. Instituted the annual Chintamoni Kar Memorial lecture. Published and reprinted three books entitled Sanchita Atit, Indian Classical Sculptures and Indian Metal Sculptures.[Online Booking available]
Open: Tuesday-Saturday (12 noon to 3.30 p.m.)
Contact: 91-33-2477 2405; 9831143792; 9433441544